Stereoselective C-H amination is a very attractive strategy for the conversion of simple low cost chemical starting materials to high value chiral amine building blocks, and has therefore attracted much interest in organic chemistry. α-Methylbenzylamine is a substructure of many complex organic molecules and can therefore be a valuable intermediate in their synthesis. [1][2][3]
The most successful chemical strategies reported so far have involved intramolecular and transition-metal catalysed reactions [4] with a number of methods using both chemical [5] and enzymatic [6][7] catalysts. A cascade of two enzymes was reported recently for the terminal amination of fatty acid methyl esters [8] employing a recombinant biosynthetic cascade in a whole cell system. Previous work had already shown that whole-cell biotransformation is able to produce chiral amine from secondary alcohol, albeit in low conversion of 3%.[9]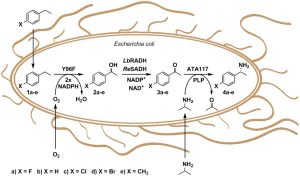 Given that natural biosynthetic cascades often suffer from limited substrate ranges, CHEM21 researchers were interested to generate a de novo biosynthetic multi-enzyme cascade that is guided in design and build by retrosynthetic considerations.[10] The target enzymes for the cascade were carefully chosen to be complementary in substrate recognition. By introducing the pathway into Escherichia coli, CHEM21 researchers generated a biocatalyst which converts ethylbenzenes 1a-e to predominantly (R)-1-phenylethanamines 4a-e respectively (Figure 1) with conversions of up to 26% and ee values of 97.5%.  Under the present reaction conditions, no additional co-factor except for the amine donor IPA and molecular oxygen was required. The CHEM21 approach is the first fully enzymatic approach to generate chiral amines at the benzylic position from alkyls.[11]
The flexible generic nature of the design of the cascade will allow for the easy substitution of individual enzymes with homologues or mutants and thereby provide a cassette based modular approach for the design and construction of alternative cascades for the enantioselective C-H amination of other substrates.