One way to reduce carbon footprint is to ask suppliers of products and services to understand, measure and reduce the carbon footprint of the products and services they provide. However, conducting footprinting research and implementing improvements can be costly. Budget limitations and increase in demand are forcing governments and healthcare providers to look to reduce or limit costs. These budget constraints are not only present for high volume generic medicines but also new innovative medicines. Despite a new medicine being given a marketing license by the relevant authority (which considers patient safety and efficacy), costs can be deemed too high in relation to the clinical benefits the patient will receive. As a result, cost has had a significant influence on prescribing policy in recent years.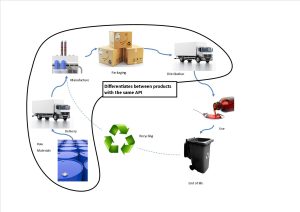 When submitted for marketing authorisation, all medicines need to have an environmental risk assessment (ERA – covered in more detail here). Currently the ERA focusses on the end-of-life fate of the API in the environment – the route of manufacture is not considered.  
For many years, focus has been placed on environmental fate of pharmaceuticals. However, consideration of carbon footprint and concerns surrounding poor manufacturing practices of non-EU suppliers is promoting the development of various ways to encourage and reward greener pharmaceutical manufacturing. There have also been efforts to lobby the EU to formalise the consideration of fate and manufacturing practice when considering a license for new pharmaceutical products. [1] Whilst the outputs of LCA might not impact on new/novel therapies, especially best in class (highest current performance level in an industry) or first in class (used as a standard or benchmark to be equalled or exceeded), it is being proposed as a measure by which products containing the same API (generic drugs, such as ibuprofen or paracetamol) can be differentiated (Figure 1).